News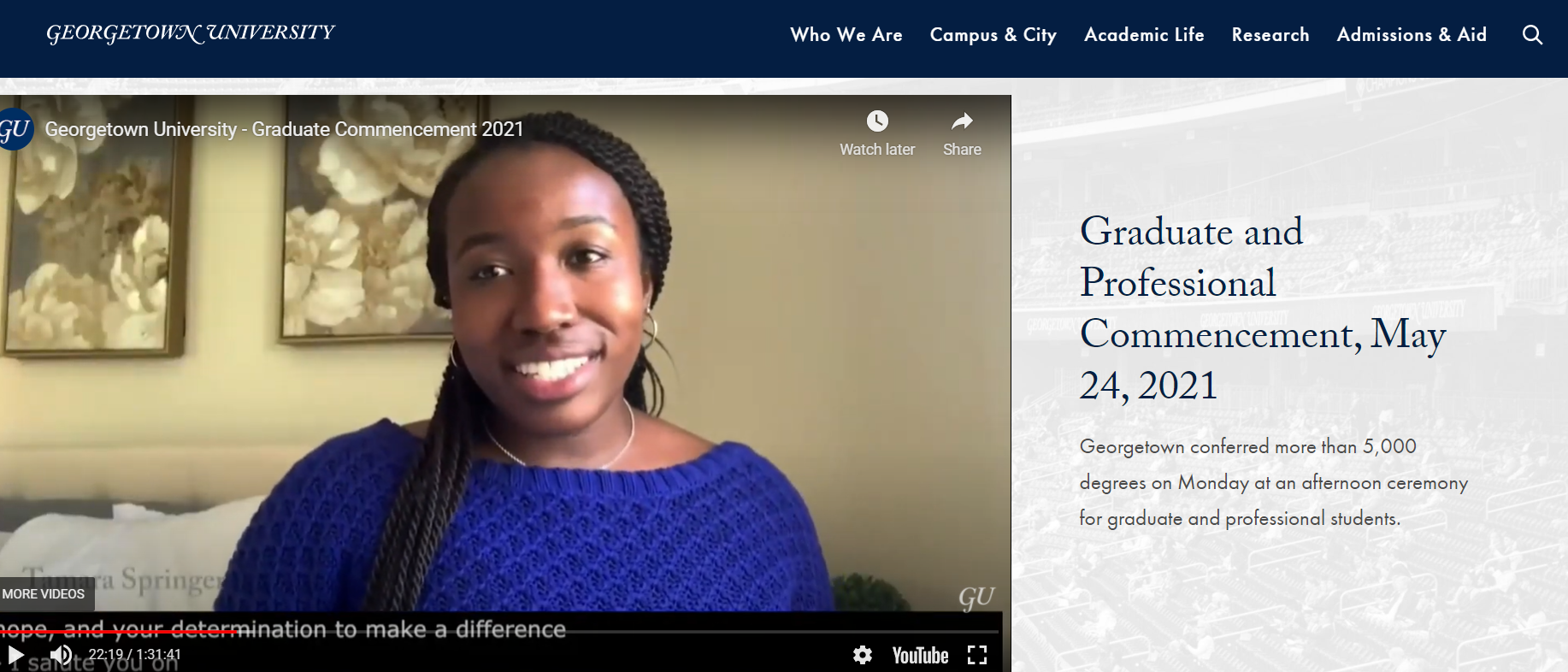 Our EPID student, Tamara Springer, was featured as a graduation speaker at the Georgetown Graduate School Commencement on May 24, 2021. Congratulations Tamara!
August 17, 2020 – Infectious disease expert Dr. Seble Kassaye (new window), associate professor of medicine at Georgetown University Medical Center (GUMC) and former GHUCCTS KL2 scholar, led a team of researchers to develop an online COVID-19 symptom tracking tool. The tool ensures a person's confidentiality while being able to actively monitor their symptoms

"Our online system provides a method for efficient, active monitoring of large numbers of individuals under quarantine or home isolation, while maintaining privacy" says Dr. Kassaye in a recent news release from GUMC (new window). Recognizing the urgent need for this kind of technology, the team developed the initial tool in just five days. The team launched the app in March 2020, using 48 medical students as a pilot group. Since then, the team had released a Spanish language version and hope to pursue mobile and voice-activated versions of the tool.
June 5, 2020 — When participants in the Bias Reduction and Improvement Coaching (BRIC) program planned their June 3 quarterly workshop, they couldn't have imagined what would transpire in the interim from their last meeting.
Against the backdrop of a country grappling with racial violence and systemic racism, the "coaches" started their meeting via Zoom by reflecting on the death of George Floyd under the knee of a white police officer.
"The BRIC program provides a specific platform by which we can discuss racial injustice and both conscious and unconscious bias in academic medicine overall and within our own institutions at GUMC and MedStar," said BRIC program organizer Kristi Graves, PhD, associate professor of oncology, director of the Survivorship Research Initiative at Georgetown Lombardi.
Chiranjeev Dash Delivers the John F. Potter, MD Lecture
On March 6, 2020, Chiranjeev Dash, MBBS, PhD, MPH, will deliver the John F. Potter, MD Lecture. This lecture is named in honor of the first director of Georgetown Lombardi. His leadership inspired the creation of the John F. Potter, MD Award, to be awarded to an early-career researcher. Dr. Dash's strong impact on our collective work led to him being named the 2019 recipient of this honor. Dr. Dash's efforts to combat breast and colorectal cancers while addressing related health disparities are a daily example of Georgetown's commitment to Cura Personalis, and an inspiration to us all.
Lucile Adams-Campbell, Ph.D., Director of the Master's Program in Epidemiology at the Graduate School of Arts & Sciences at Georgetown University, as well as Professor of Oncology and Associate Director for Minority Health and Health Disparities Research at Georgetown Lombardi Comprehensive Cancer Center, was named a 2018 'Washingtonian of the Year' by Washingtonian magazine. The annual honor is bestowed on individuals who contribute to the city's health, welfare, community service and cultural richness, and who have generally made significant, measurable contributions to making Washington, D.C., a great place to live.
Read more at the Lombardi Cancer Center web site or you can read the original Washingtonian magazine article.
December 9, 2018 — At their annual awards ceremony and reception, Georgetown Women in Medicine (GWIM) recognized women on the faculty at GUMC for their accomplishments in mentoring, leadership and more. Master's of Epidemiology professor Suzanne O'Neill, Ph.D. was awarded the John Eisenberg Career Development Award.